MT. BACHELOR Vacation Rental Home 5 Bedroom 5 Bath Sleeps 14 Sunriver Vacation Rental (503) 805-0479
Extra Large Lodge Home Golf Home By Owner Private HOT TUB Bend Oregon Skiing Deschutes BIKES

Mt Bachelor Executive Lodge Home
Sunriver Vacation Rental
Winter & Spring Dates!

email... Sunriver Resort
Executive Lodge
or call...(503) 805-0479
SHARC Rec Center
12 Passes Provided
w/Rental of Our Home
Open Year Round!!

Indoor & Outdoor Pools
Two Huge Water Slides
Hot Tub
Year Round Sledding Hill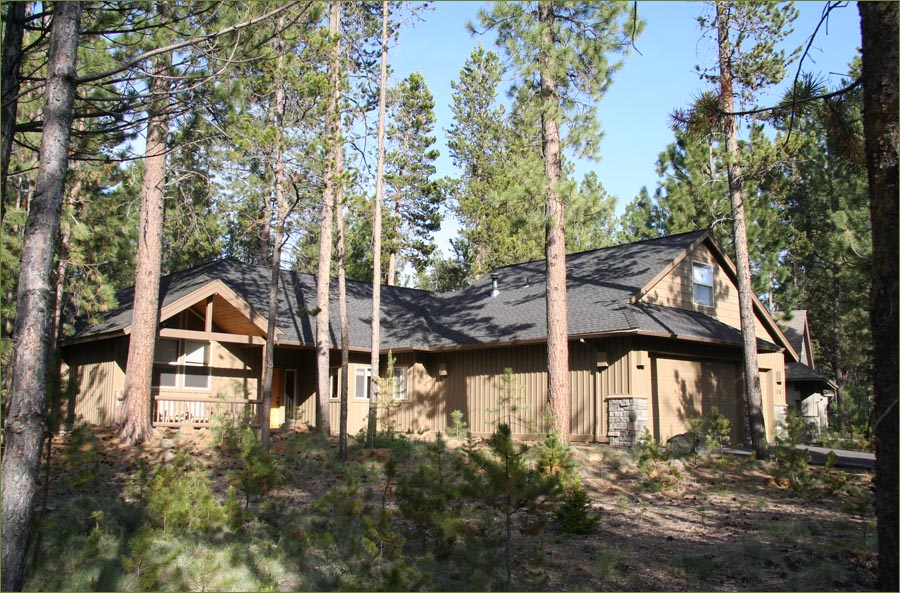 Available For Rent By Owner
Sunriver Resort Home
Private Hot Tub!
Extra Large Luxury
5 Bedroom, 5 Bath
4 Master Suites Plus
Private Hot Tub & 3 Car Garage
Sleeps 14

Click here to see ~
Rates & Availability Calendar ~ Contact Us ~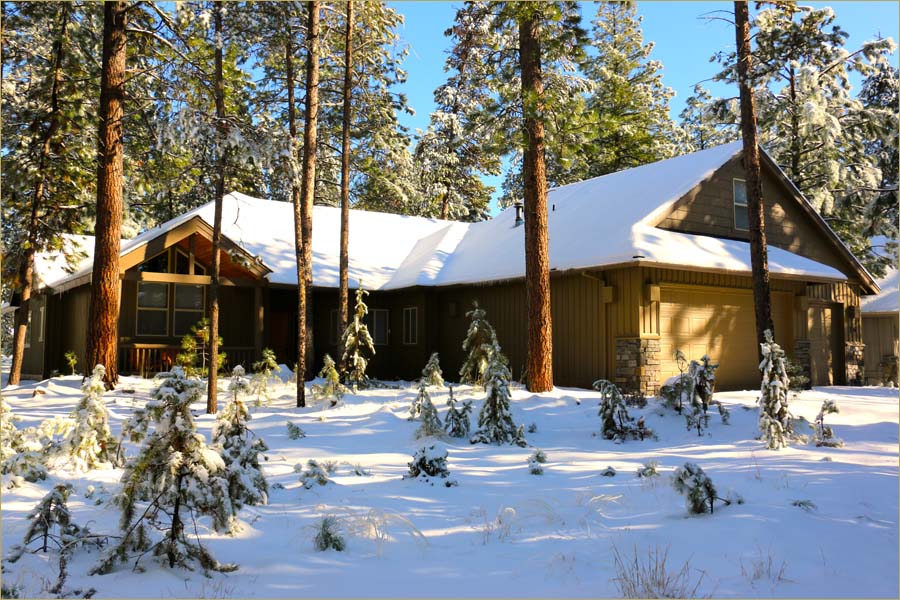 5/5 - This gorgeous home was designed for groups, either families or friends, to have wonderful times all together, but also offers areas of escape into your own space, too.
What a luxury it was, having all those connecting bathrooms! Our multi-generational family of nine cooked all our meals in the very well equipped kitchen, and were pleased to find many bonuses, like a large griddle (pancake perfect), a spice drawer better stocked than mine, two coffeepots (regular and decaf at the same time...yea), a second refrigerator, a brand new dishwasher, and even a crockpot.
We found the owners to be especially attentive and responsive and we loved the location of the house. Because of the pandemic, we considered canceling, but we're so glad we didn't, as we found plenty to do and felt very safe the whole time. You'll enjoy your stay at the Executive Lodge!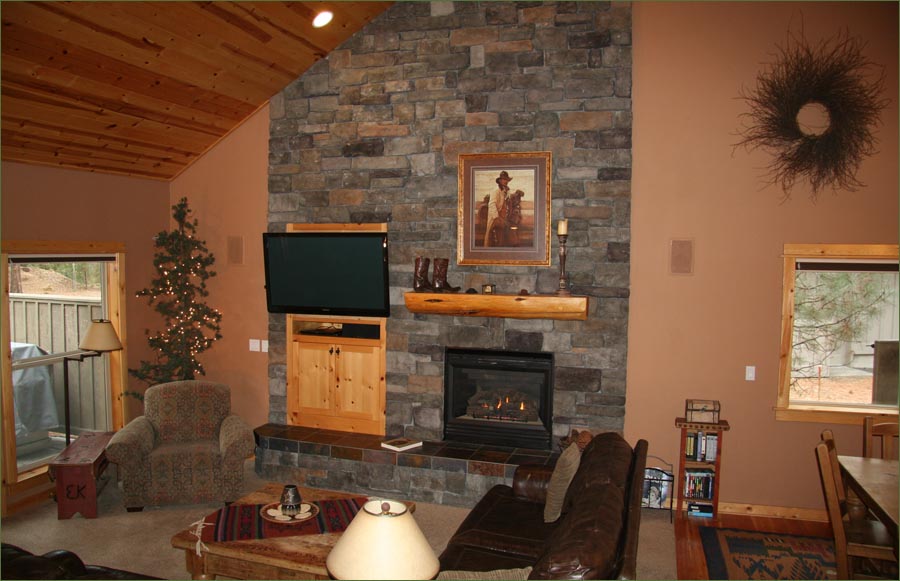 Large Sunriver Resort Lodge Home features rich leather furnishings, gas log fireplace, HDTV and generous private deck with private hot tub and gas BBQ grill.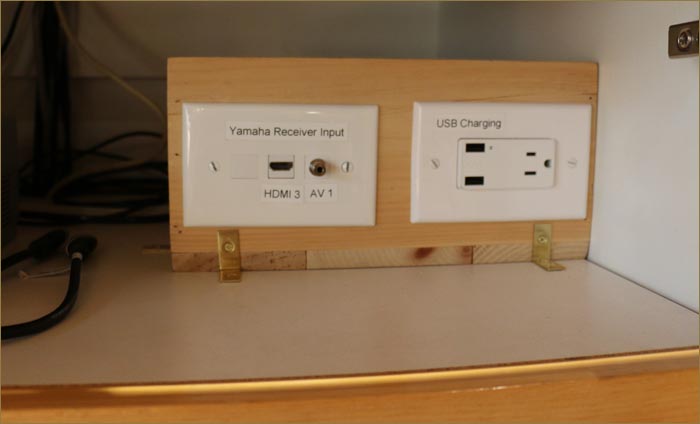 New Media Box for easy connection of your own HDMI Devise (Apple TV, Roku, etc.) and your MP3 Player (Smart phone, iPod, etc.), with USB Charging.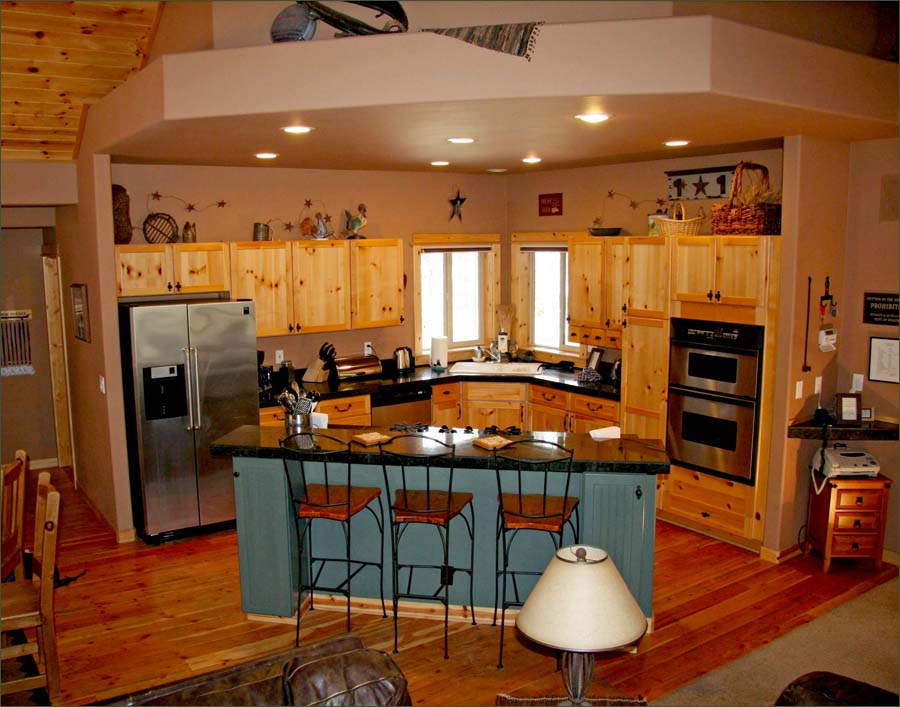 Beautifully appointed kitchen with polished granite counter tops, knotty pine cabinets, and stainless steel appliances, this fully stocked kitchen is carefully designed to meet your cooking and entertaining needs. We have a 2nd refrigerator in the garage, very handy for large family reunions!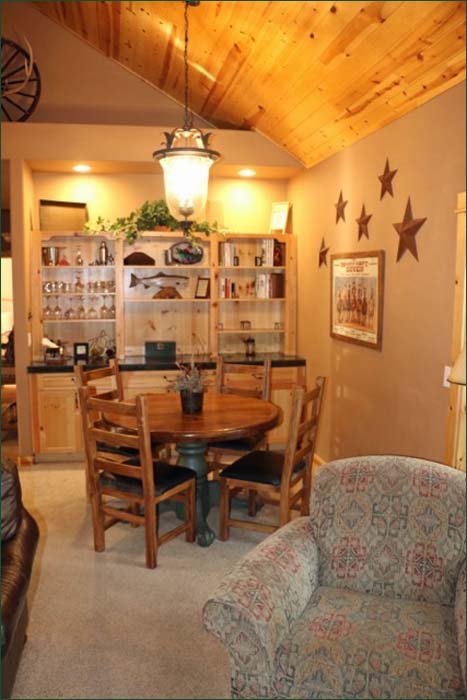 Extra Large


The large great room which includes the Kitchen, Dining Area, Game Area, and Home Theatre Area, is great for families to gather and hang out.
A 50-Inch 1080P Plasma TV has been mounted on a reticulating mount (swivel to view where you want) and a new BlueRay DVD and a Home Theatre Receiver has been installed.
Bring your iPod or other MP3 and play your own music. There is also a collection of DVDs, VHSs, books, games, and puzzles.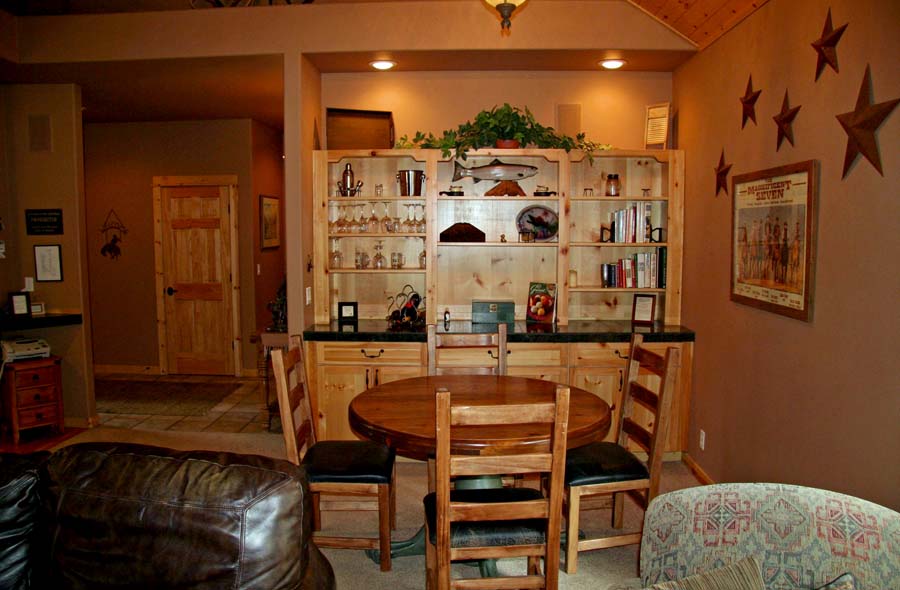 5/5 - This house is in the perfect location and has everything you need. Kitchen is fully stocked with cooking supplies, very clean house, a lot of bikes to choose from and entertainment for the kids. Would highly recommend this house! Matt H.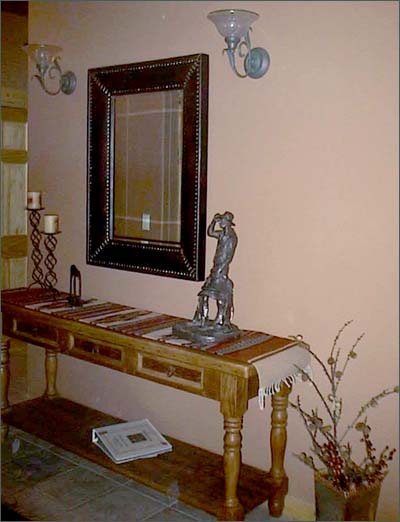 Sunriver Executive Lodge Home
Luxury Mt. Bachelor
Vacation Rentals
Each room is beautifully appointed with a unique western theme, plus a golf room!
Amenities...
3 King Master Suites = 4 Bedrooms (including Kids) on Ground Floor
1 Queen Master Suite
Kids Full Sized Bed Bunkbed Room + A Single Bed
All Bedrooms have Flat Screen LED TV, Cable, Most w/ DVD, VHS, and/or Blue Ray Players
High Speed Wireless Internet
Large Central Gas Fireplace
Full Ranch Kitchen Fully Equipped for Large Gatherings
2-Refrigerators
Spacious Dining Table
Family/Game Area
Air Conditioning
All Linens, Soaps and Shampoo Provided
Private Hot Tub
Courtyard Patio
Outdoor Gas BBQ
Patio Furniture
10' Picnic Table
Cornhole Set (wooden) + Board Games
Washer and 2 Dryers
Oversized 3 Car Garage w/Ping Pong, and Fooseball Table
9 Bikes - Various Sizes w/Required Helmets, Including an Adult Tandem Bike!
12-SHARC Passes Included w/Our Home Rental
This Sunriver vacation rentals' warm and inviting lodge-style atmosphere accented with thick log stairways, vaulted maple ceilings and maple hardwood floors, create a wonderful gathering space for weddings or family reunions.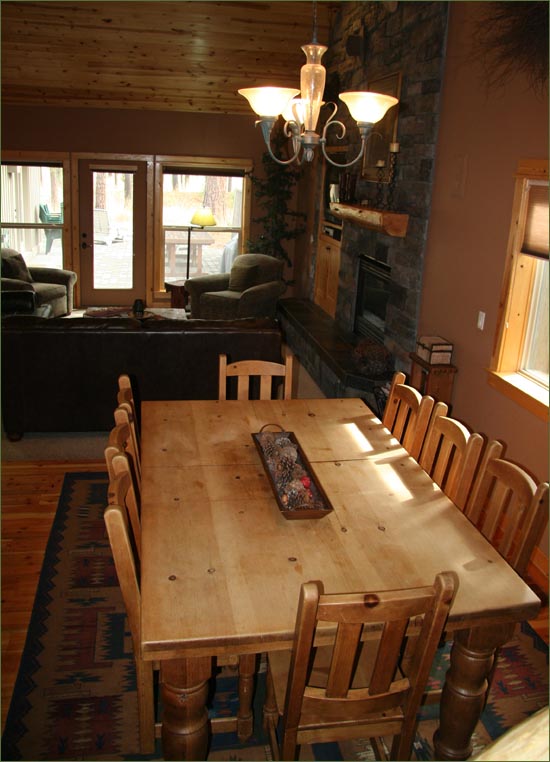 A large ranch themed dining table, combined with the additional seating at the up-to-the kitchen breakfast bar and the game table, offers comfortable seating for a crowd all in the same Great Room.
5/5 - We thoroughly enjoyed this home for our first trip to Sunriver. The house is on a quiet street with great access to biking trails, SHARC passes, a great outdoor space to eat/BBQ and plenty of space indoors as well.
As a family of 5 we didn't even use all the bedrooms. The hosts were great to communicate with and have outfitted this home to be comfortable and fun (bikes, ping pong) for everyone. Genevieve A.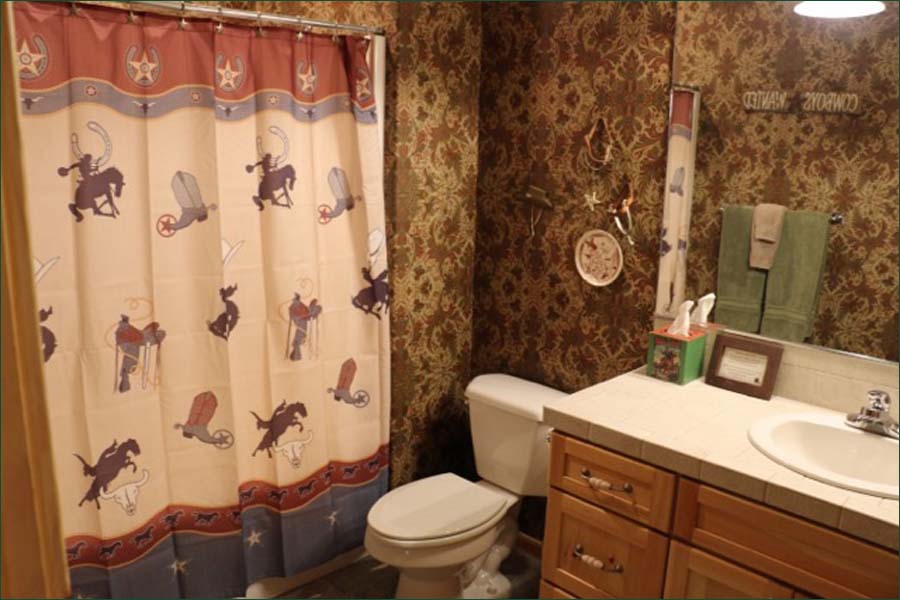 The Common Bathroom with Shower & Tub
5/5 - The Executive Lodge Home worked out very well for our family of eight. Five bathrooms means no competition or kvetching in the morning. Five bedrooms to choose from and everyone was happy with their choice. (The sleepers in the upstairs bedroom had to pile on extra blankets to stay warm in the winter.)
The kitchen is well stocked with pots, pans and utensils and those of us who love to cook really appreciated the ample counter space. As a family we love to play games and though we always bring our own there were board games galore to choose from and a perfect side table to play on. The ping-pong and Foosball tables were a hit with the grown kids.
This trip, skiing Mt. Bachelor was "Good to the last (rain) Drop" so the dryers were very much appreciated. We have no negatives to say about this home. All in all, everyone one of us said we would gladly return to the Executive Lodge Home. Eric E.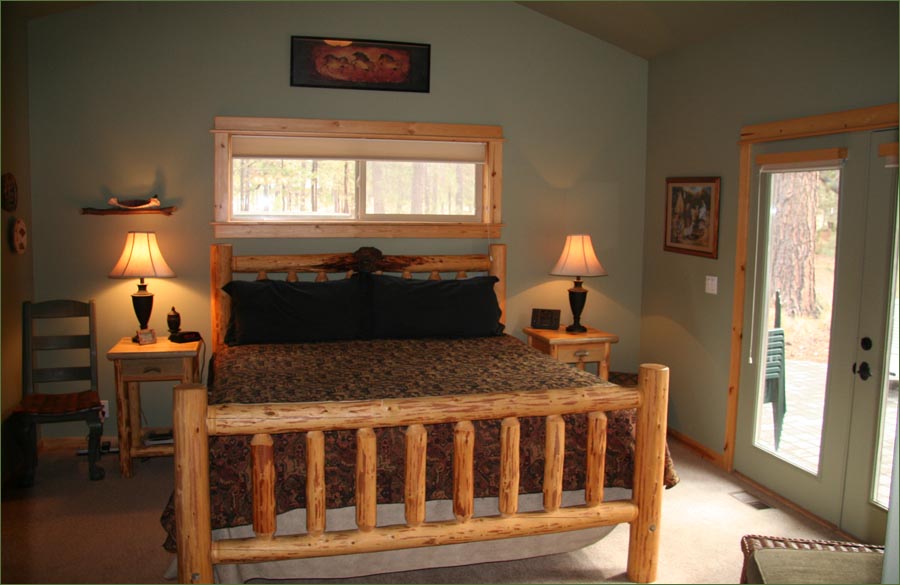 The executive lodge style home for rent by owner, includes 4 master suites, each with attached private bathroom. This is the Native American themed Main Master Bedroom.
5/5 - This property suited our family of 13 well. There was more than adequate cooking equipment. The place was very clean. The home was well organized and we were able to find what we needed easily. The homeowner provided clear instructions for check in and check out. Cecille D. Wichita Falls TX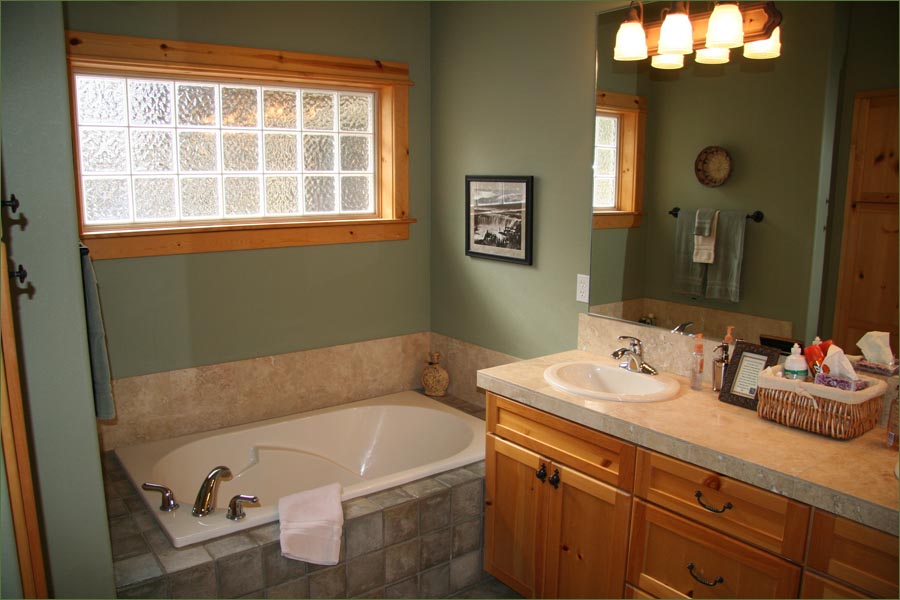 Native American Themed Bedroom
Luxurious Bathroom with Soaking Tub.
5/5 - We went with our children and their families. This property is perfect for families. There was plenty of room for everyone and we did not feel cramped. There were 12 of us including 4 grandchildren. The house was set up perfect. The kitchen had everything you could possibly want or need. We are looking at booking again next summer. Tory N.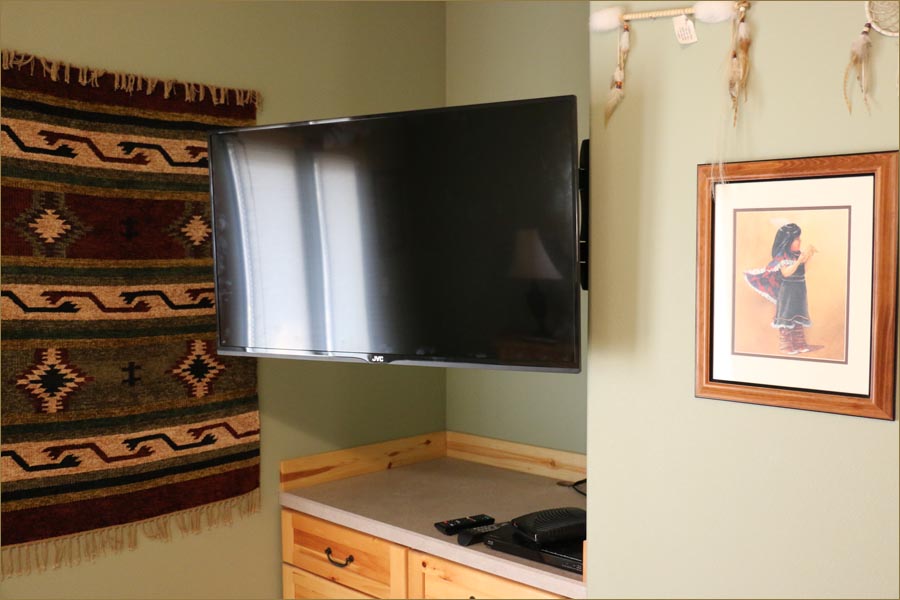 All bedrooms have flat screen TVs with Cable. Most have DVD, some Blue Ray and Kids room has VHS. This is Native American Room TV.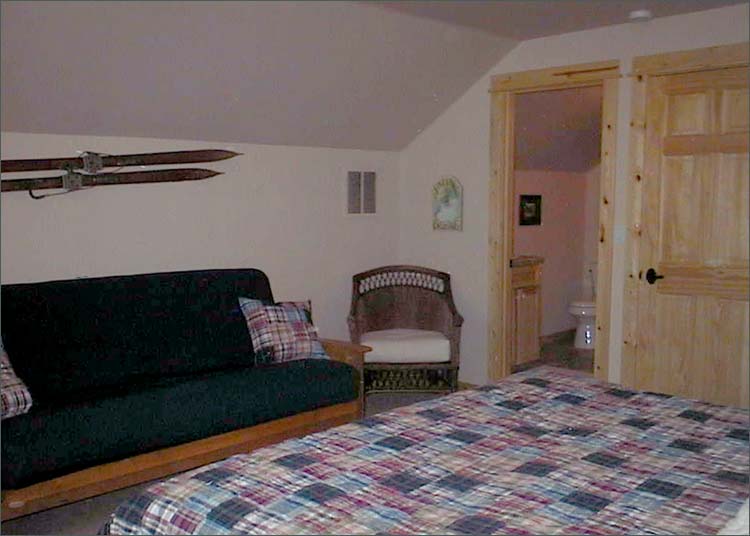 Ski Chalet Bedroom Suite
Executive Lodge Home's colorful, king sized Ski Chalet master bedroom features a comfortable sofa that folds easily out to offer another full futon for additional sleeping if needed.
5/5 - Executive Lodge is an amazing property. The owner's pay attention to detail and every item we needed was anticipated. The décor, the set-up of the home made for a perfect couples getaway. I appreciated the communication and detailed information for check-in and check-out.
As a former owner of a Sunriver Rental, I recognize the hard work and care these owner's have for their property. You will not be disappointed with the location, the home, the amenities and everything has to offer. I would not hesitate to refer others to this home and I know we'll be back. Breanne N. Vancouver, Wa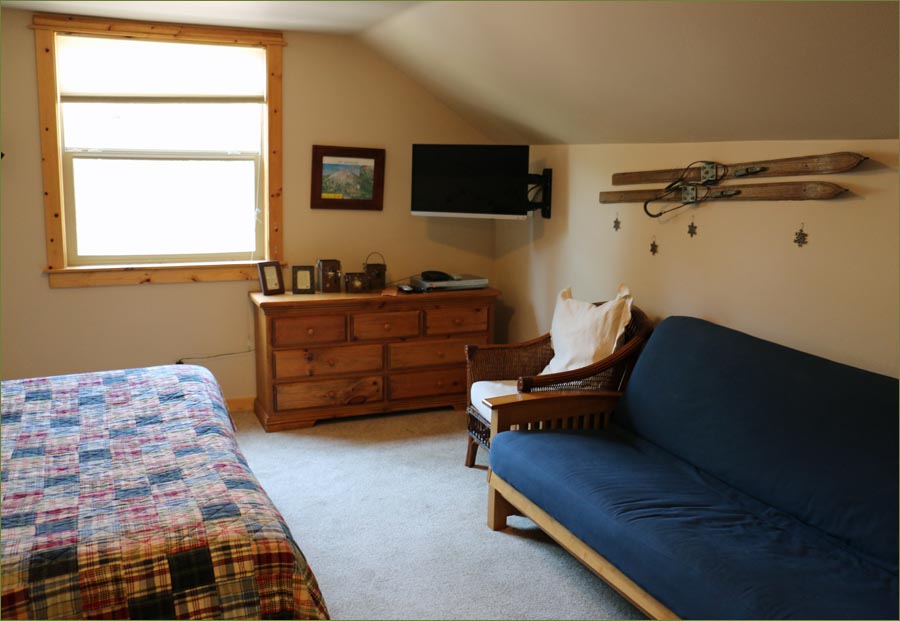 Ski Chalet Bedroom Suite


Sunriver Lodge Home is perfect for families, groups, weddings or as a corporate retreat.

The expansive and well appointed Sunriver vacation home offers guests the added luxury of a private bathroom for each of the four large bedrooms.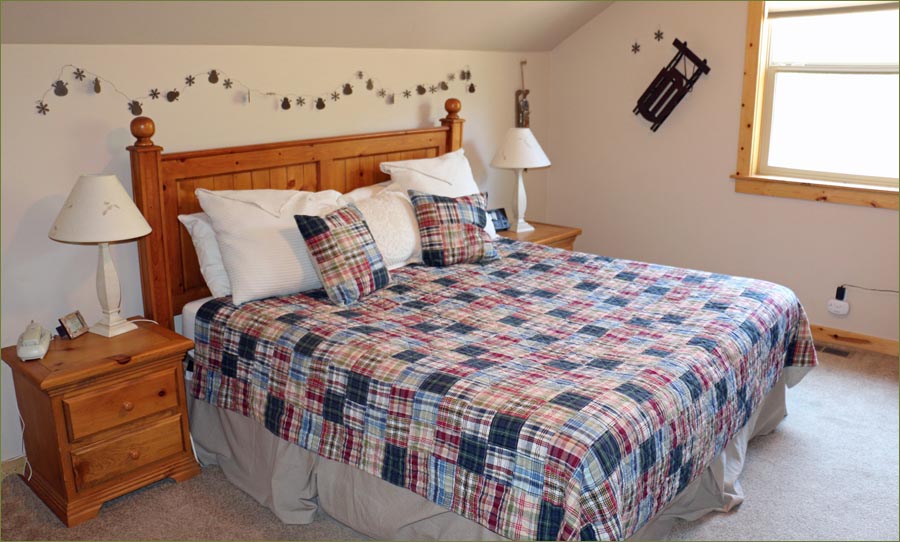 Each large and well-decorated theme bedroom features new, top-of the-line beds, fine linens and thick towels.
5/5 - My family had an amazing time in Sun River and this house could not be set up any better for a great relaxing fun filled week. Spacious clean rooms (we all loved the themes) with plenty of bathrooms. The kitchen and main living area had more than enough space for all of us to relax and enjoy each other's company. We've been to Sun River multiple times and all agreed this was the best set up house we have stayed in. Mathew H.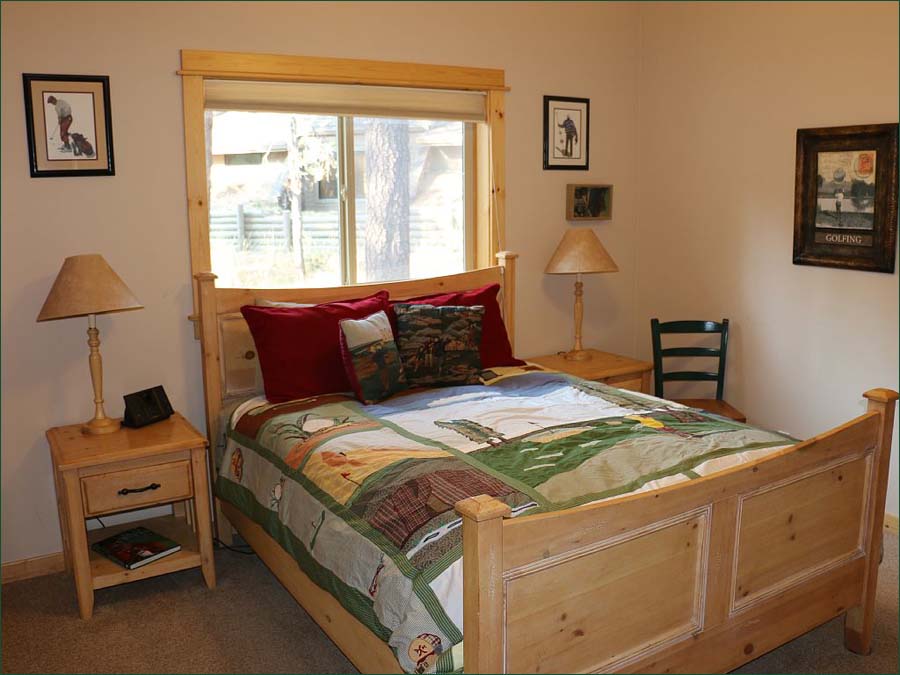 The Golfing Bedroom Suite
5/5 - My family had an amazing time in Sun River and this house could not be set up any better for a great relaxing fun filled week. Spacious clean rooms (we all loved the themes) with plenty of bathrooms.
The kitchen and main living area had more than enough space for all of us to relax and enjoy each other's company. We've been to Sun River multiple times and all agreed this was the best set up house we have stayed in. Mathew H.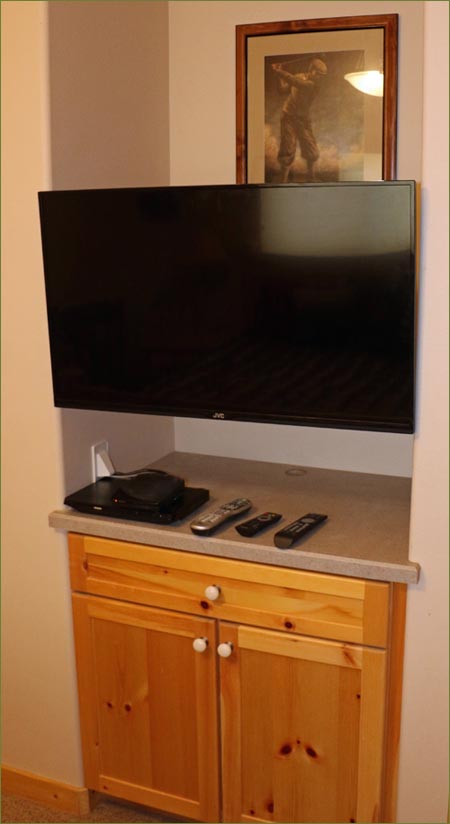 Golf Bedroom
Executive Lodge Home's bedroom, the Golfing Suite is artfully appointed with beautifully crafted furnishings and extravagant towels, sheets and blankets.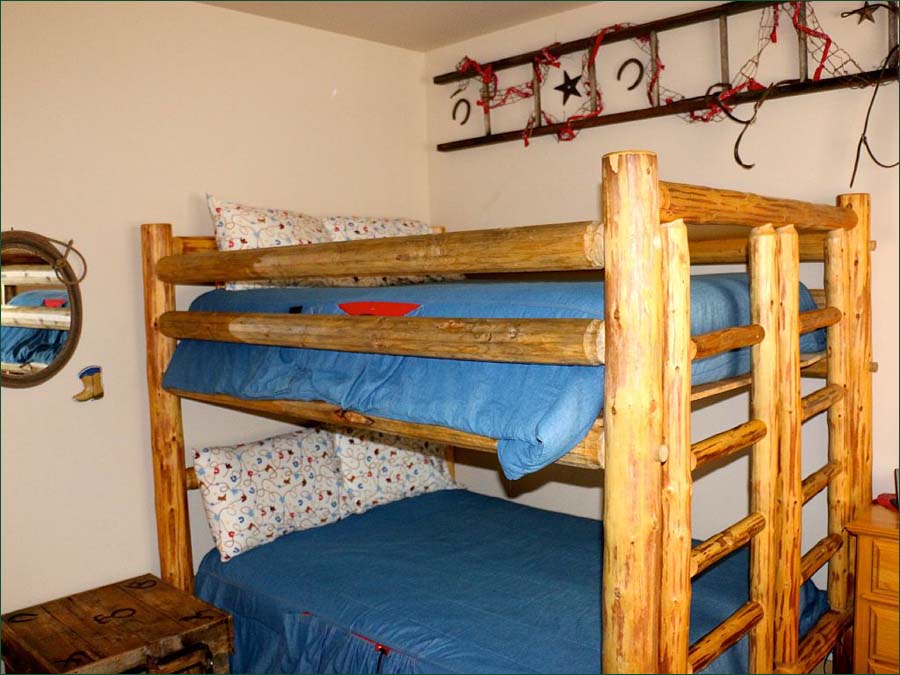 Buckaroo Bunk Room Bedroom


With a thick log bunk bed and additional twin bed, pictured below, the BUCKAROO BUNK ROOM also works well as a 2nd TV ROOM and a terrific hang out for the kids! Full size bed Bunkroom Bed can sleep up to 4 kids.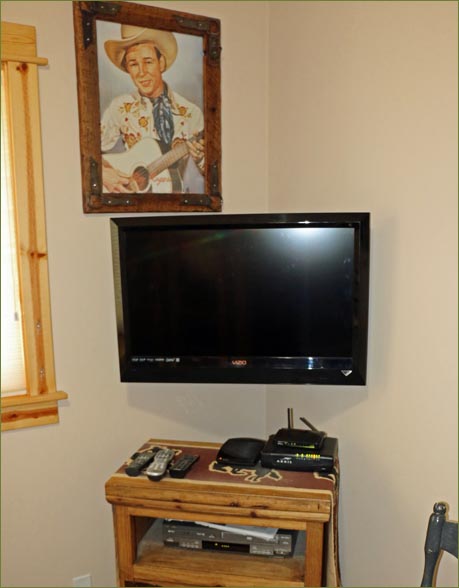 New flat screen for the Kids. Includes VHS player, so bring the OLD favorites!
5/5 - Second time staying in this home for our MLK family get away. We stay in several vacation homes every year on our travels and this is a favorite. The home is clean and nicely organized.
I wish all home owners were as thoughtful as to what they provide. It makes it so easy to care for the home as if it were your own. Two minor things I would add to the home would be extra blankets for snuggling and some plastic glasses with tops for kids and the hot tub. Jane K. Cornelius, Oregon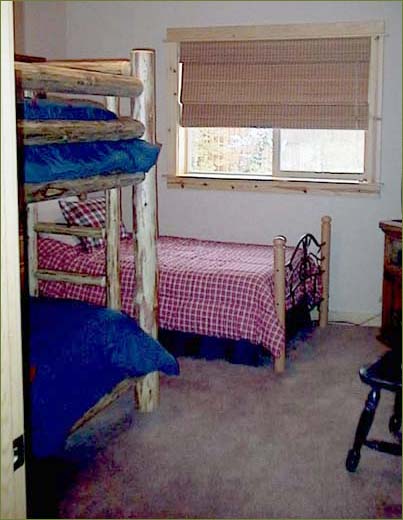 Bedrooms are each made up with soft fine linens and warm blankets and throws.
5/5 - This property was the site of a 50th birthday celebration and winter vacation shared by two families and a couple of friends. The layout of the property is spacious, open and private. The three car garage, extra refrigerator, and extra bathrooms made this property really stand out.
The kitchen had everything we needed (we had banquet size meals nightly) and it's location next to the living room was perfect. The owners were timely in their communications and made for a worry free stay. We've stayed at Sunriver rentals numerous times and this was by far our best experience D.Vila Stafford VA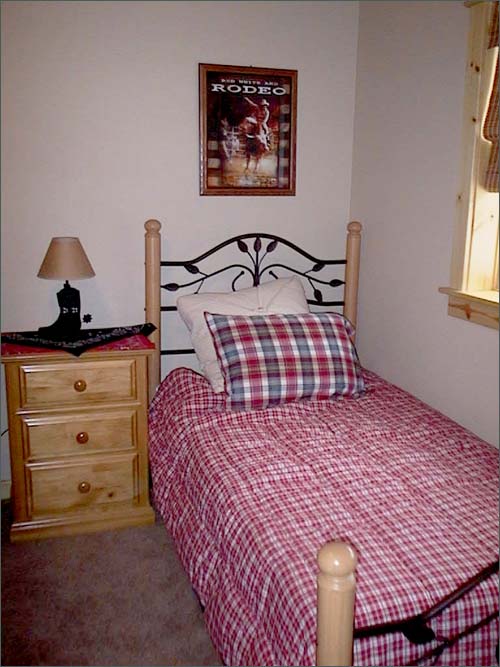 Single bed means up to 5 kids can have beds (including the full size bunk bed).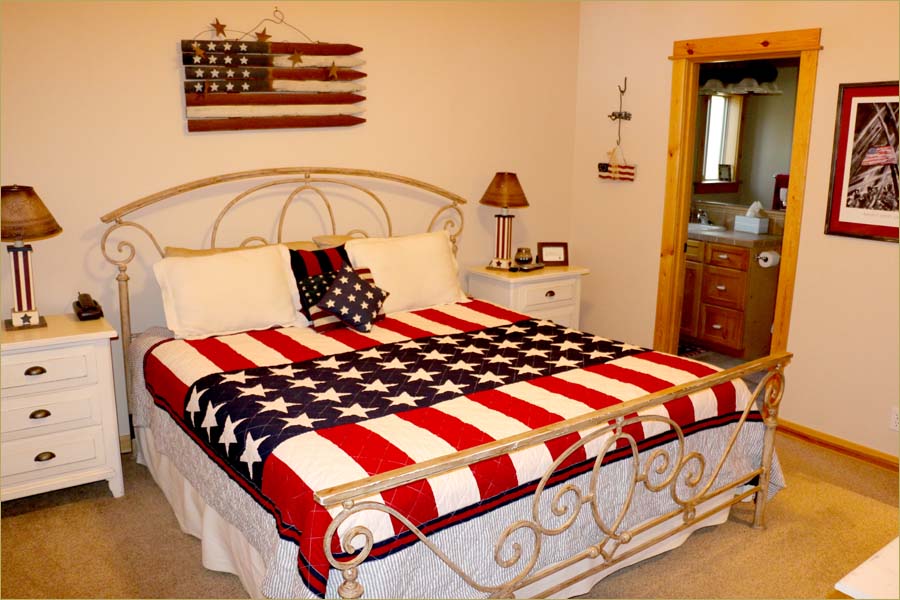 Americana Bedroom Suite
5/5 - This house was perfect for our group, having most bedrooms with an attached bathroom gave the house a hotel like feel while still having large common areas for meals and socializing.
It was perfect for our group since the majority of the bedrooms were on one floor and we had some friends with mobility issues. Great hosts very clean would recommend to anyone looking for a large house in Sunriver. Zach J. Eugene, OR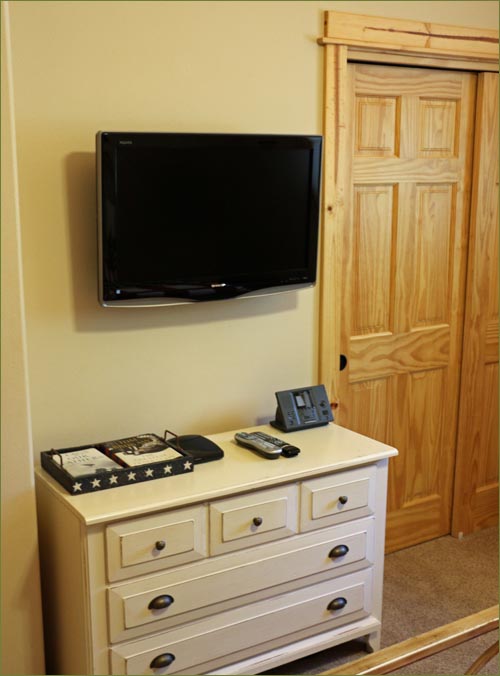 Front Porch
Relax on the Front Porch!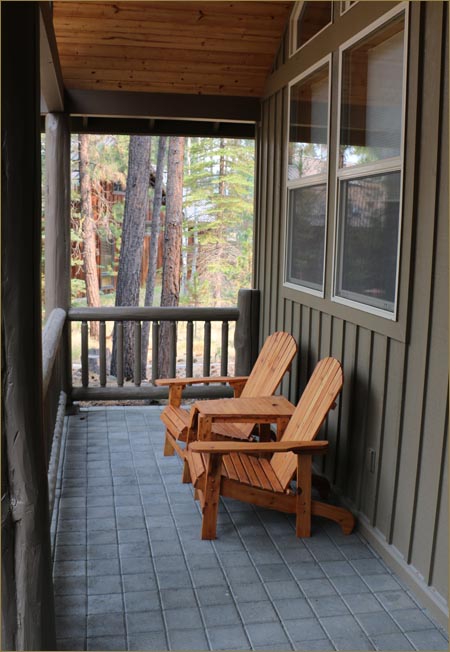 5/5 - This house was immaculate! We loved the four masters - each couple had their own private space. The kids bunk room was great, although I had mistakenly thought there were two sets of bunks. The room actually sleeps five kids with one bunk bed (double bed width on top and bottom bunk) and a twin bed.
The kitchen was well stocked with all paper supplies and many spices, etc., as well as every utensil needed, a wide variety of pans, two coffee makers, all perfect for accommodating a large group. The extra dryer and refrigerator in the garage were so great, as they allowed the inside fridge and dryer to be less overloaded.
The location of this home is very nice, close to the river. Bring along some OFF and mosquito coils to burn in the evenings, as the mosquitos can be a challenge. Thanks to Eric for your very thorough and prompt responses to every email I sent! We would definitely recommend this house to anyone, and will be returning on our next visit to beautiful Sunriver. Vicki S.
12 SHARC Passes Provided
Year Round Indoor & Outdoor Pools
Two Huge Water Slides
Hot Tub Year Round
Seasonal Sledding Hill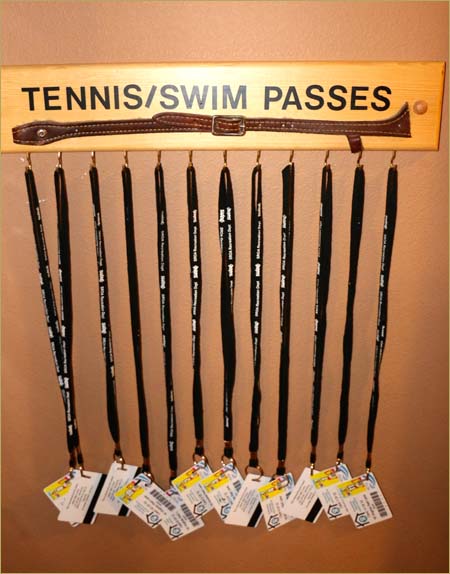 5/5 - We have rented in Sunriver on a yearly basis for over 20 years. To date this is the most comfortable, well laid out, well stocked house in which we have stayed.
Very clean, impeccably decorated, nice quiet location close to river. The kitchen had everything we needed. Bikes were in great shape and it was fun to have ping pong and foosball in the garage.
Owners were great to work with and very responsive. Most bedrooms and living area are at ground level which makes the house very accommodating for young and old. We have already booked for next year! Sarah S. Salem, OR

Sunriver Rental Home
Mt Bachelor Ski Home
5 Bedroom, 5 Bath, Sleeps 14
(503) 805-0479

Calendar of Availability


Time Period
(nights of...)

Daily Rate

Weekly Rate

Winter 2020 Ski
Jan 5 - March 19, 2020

$415
3-night minimum

$2300

Spring Break 2020
Mar 20 - Mar 28, 2020

$450
3-night minimum

$2600

Spring 2020
Mar 29 - May 24, 2020

$345
3-night minimum

$1900

Late Spring 2020
May 25- June 11, 2020

$425
3-night minimum

$2400

Summer 2020
Jun 12 - Aug 22, 2020

$610
5-night minimum

$3700

Late Summer 2020
Aug 23 – Sept 3, 2020

$550
4-night minimum

$3200

Labor Day Weekend 2020
Sept 4 - Sept 6, 2020

$610
3-night minimum

Ask

Late Summer/Early Fall 2020
Sept 7 - Sep 28, 2020

$375
3-night minimum

$2200

Fall 2020
Sep 29 - Nov 24, 2020

$360
3-night minimum

$2000

Thanksgiving 2020
Nov 25 - Nov 29, 2020

$575
4-night minimum

$2600

Pre-Christmas Ski 2020
Nov 29 - Dec 17, 2020

$350
3-night minimum

$2000

Christmas/Winter Break 2020/2021
Dec 18 - Jan 2, 2021

$620
4-night minimum

$3800

Winter 2021 Ski
Jan 3 - Mar 18, 2021

$430
3-night minimum

$2300

Spring Break 2021
Mar 19 - Mar 28, 2021

$460
5-night minimum

$2600

Spring 2021
Mar 29 - May 27, 2021

$355
3-night minimum

$1900

Late Spring 2021
May 28- June 17, 2021

$425
4-night minimum

$2400

Summer 2021
Jun 18 - Aug 28, 2021

$630
6-night minimum

$3900

Deposit of 25% of the total rental payment, including rental fee plus $150 cleaning fee and rental taxes (County & State 9.5% ) due within 10 days of reservation to hold your rental dates. $400 security deposit plus balance due of total rental payment are due 30 days prior to rental starting date; Call/e-mail to check regarding shorter stays than minimum.

No Smoking ~ No Pets
(we are "humans with allergies" friendly)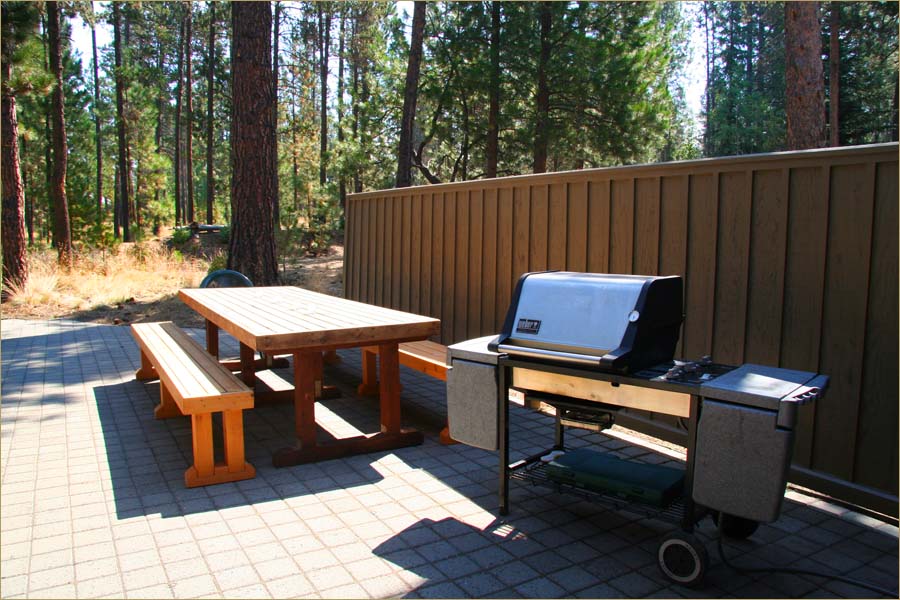 Large 10 foot foot long picnic table plus benches and a Weber Barbecue. Great for large groups to cook and dine outdoors!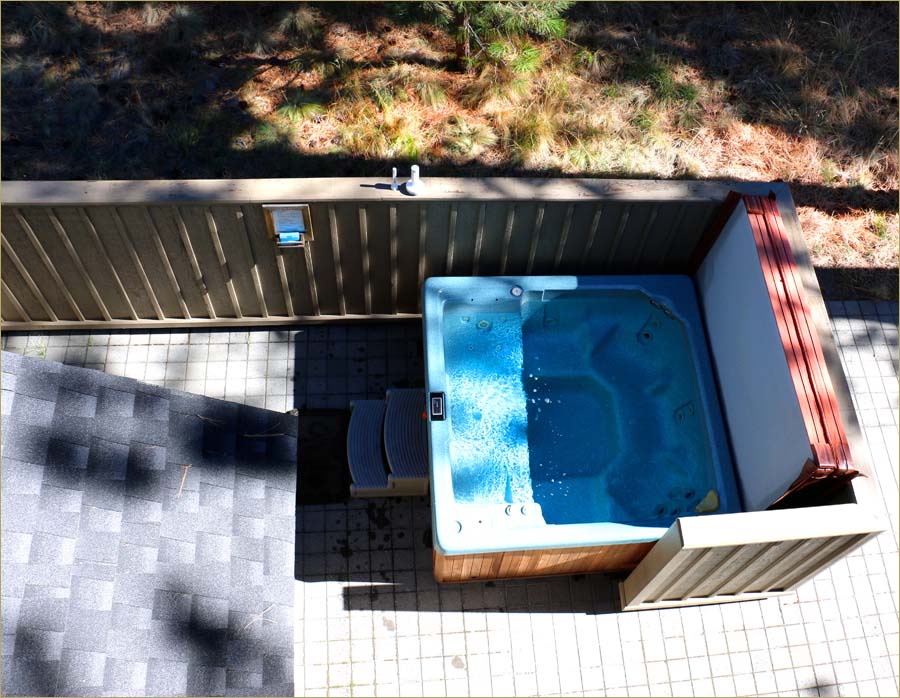 Private Hot Tub
12 SHARC Passes Provided
Year Round Indoor & Outdoor Pools
Two Huge Water Slides
Hot Tub Year Round
Seasonal Sledding Hill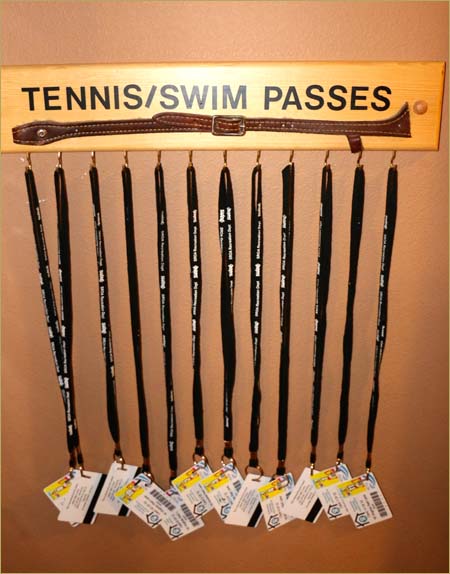 5/5 - The house was very comfortable and in a great location. The house is very nicely decorated.
We all decided before we left that we were all very pleased with house and location. Sunriver is a great family location. We were an extended family of 14, ages 9 to 84. We rode bikes everywhere. The ping pong table was an added bonus. We used the Sharc passes to swim and to play tennis. It is close to Woodlands and Fort Rock. Aubrey F.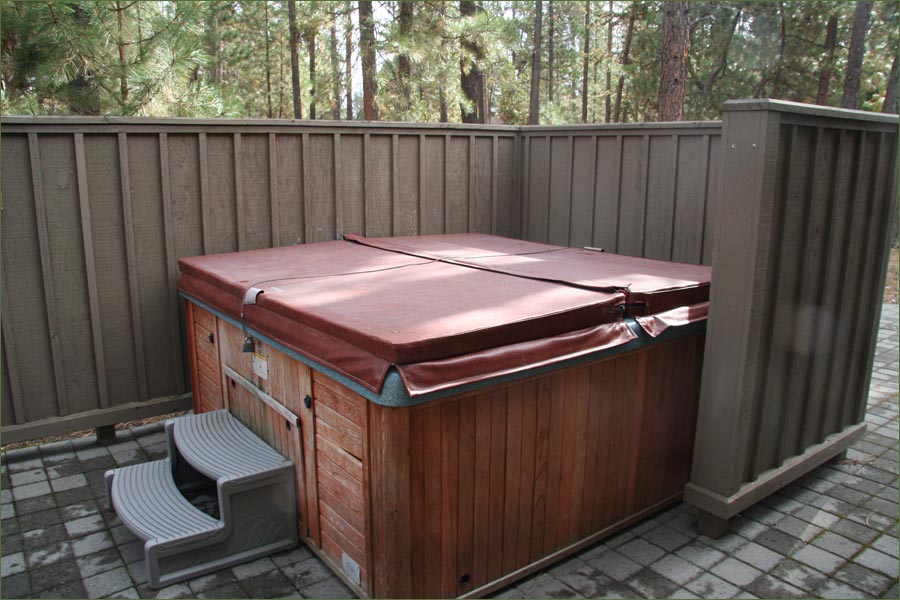 A family friendly deck surrounded with the fragrant, Central Oregon forest, idea for family togethers, barbecues or long soothing soakings in the private hot tub, set just outside the door...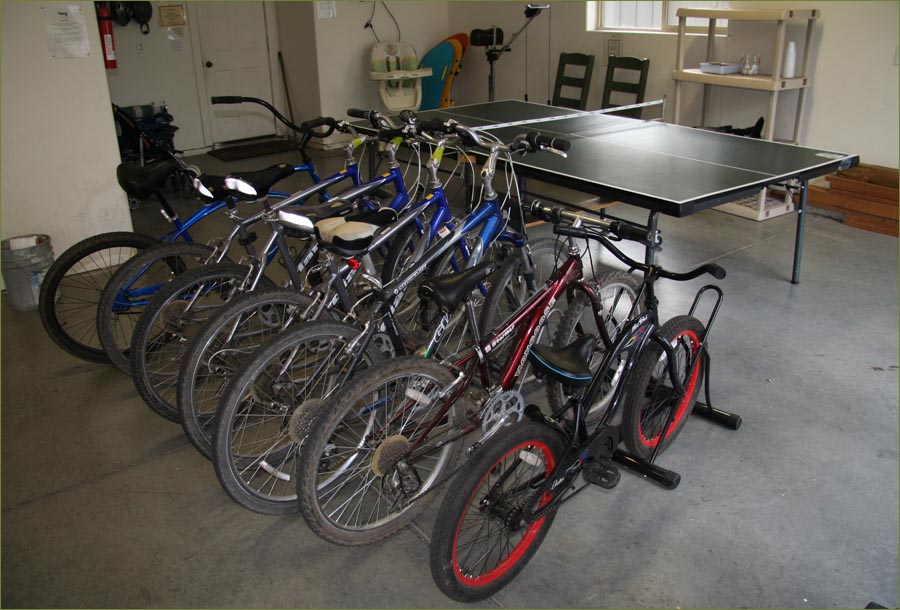 9 Bikes for your use with Helmets, including an Adult Tandem Bike. Ping Pong in the Garage.
5/5 - This is a great home for multiple families. 4 of the bedrooms had attached bathrooms. Great decor within each room and house. Kitchen has everything you need.
The house comes with plenty of bikes and helmets. The kids enjoyed the bikes. House is located on a quite street, close to the river. The outdoor seating is great with a nice grill. Foosball and ping pong were very entertaining for the kids.
The owners were great to work with. Quick responses to all questions. The house is well cared for. I would recommend this house. Rodney J. Olympia, WA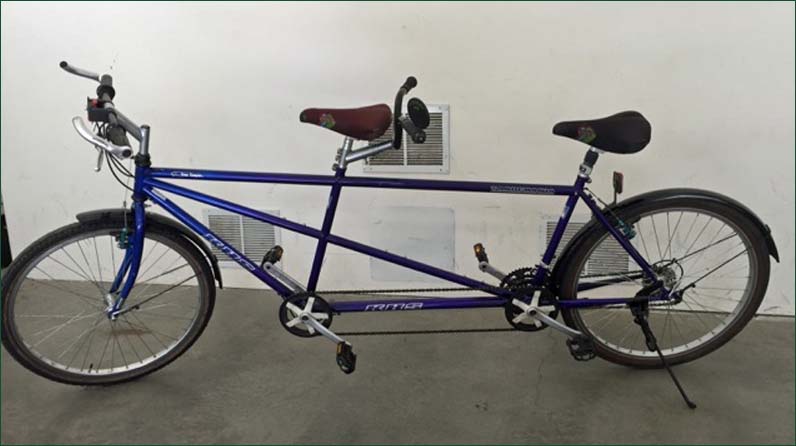 5/5 - Our stay in Sunriver was great this summer thanks to having such a lovely, spacious home to call "home". We had 14 people ranging from age 13 months to 70+, including 3 teenagers and a 4 and 7 year old. All the rooms were very comfortable that included their own private bath.
The kitchen was very complete with everything we needed to prepare large meals and the extra refrigerator/freezer in the garage was great to have! Weather was unseasonably warm while we were there but house was cool and comfortable.
Ping Pong table and hot tub were a big hit as was the very large outside patio table where we ate most of our meals. We forgot to bring the games we usually play but there were cards and a few family type games available as well as a nice game table.
The SHARC passes were very nice to have and we all enjoyed using the pools during the hot weather. House location was very close to bike trails and about a 2 mile ride to SHARC.
I would definitely recommend this home to others. The owners have taken care to make the house very comfortable with great instructions on how to use appliances and TV. Thanks for a great stay in your beautiful home! Jan M.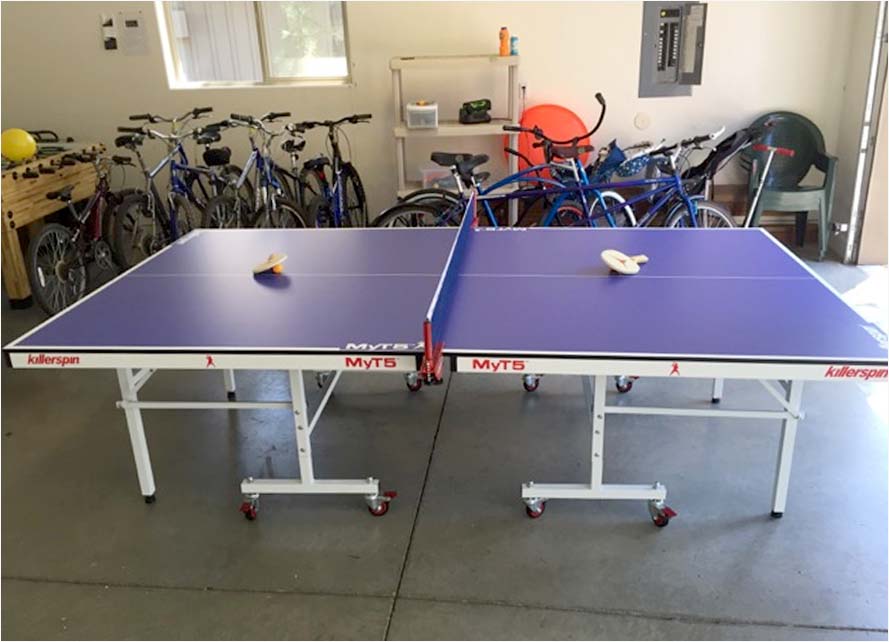 5/5 - Our family has gathered for reunions at various vrbo homes in California, Oregon and Washington for the last seven years, and this Sunriver house was unanimously voted the best.
The four master bedrooms with baths were such a luxury, and the kids enjoyed their own bunkroom with a nearby bath. The comfortable living room and well-equipped kitchen were perfect for our times together, and the bedrooms provided space for quiet time and resting. The house was very clean and well-maintained. The owner was very helpful and responsive to our questions.
We took advantage of the hot tub, ping pong table, bikes, Sharc passes, and nearby bike paths. We enjoyed the large picnic table for dining al fresco.
There are so many activities in the area that we never lacked for choices. A half hour drive to South Twin Lake and we were able to rent a canoe, 2 person kayak, and 2 paddle boards for quite a bit less than 1 raft at the Marina. Horseback riding, cave exploring, the observatory, tennis, the nature center, golf at Quail Run, geocaching, and the annual family softball game were just some of our adventures. We enjoyed dining at Marcello's Cucina Italiana and would definitely recommend reservations.
Thank you for sharing your home with us. We hope to be back. Christine P.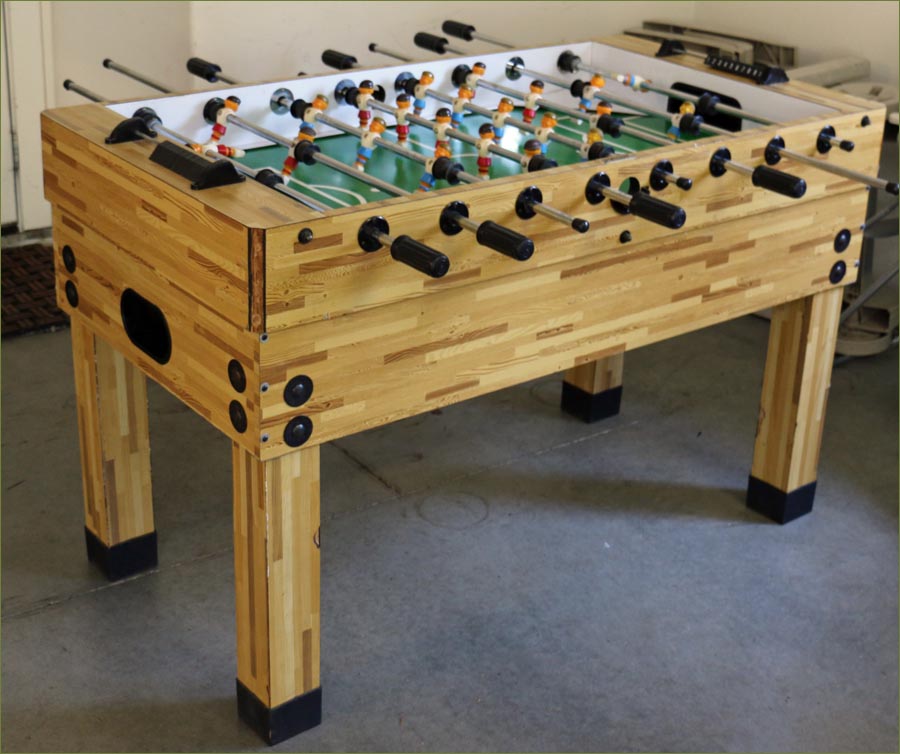 9 bikes, helmets, bike locks, fooseball and Ping Pong table are in the three car garage. With doors closed in winter, warm enough for Ping Pong!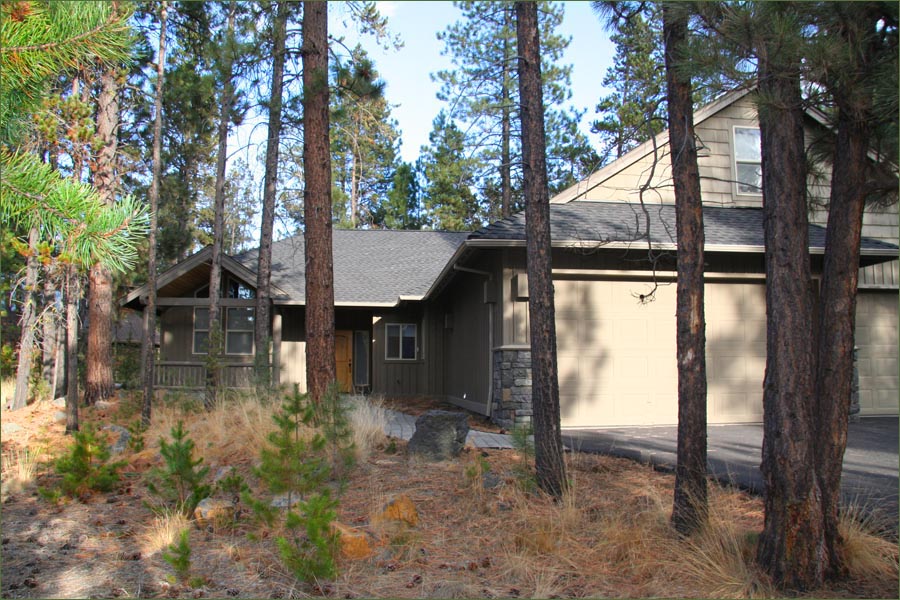 'click on the map'
below to see a
Map of Sunriver Resort!


View Larger Map


by owner...
Eric and Suzanne Strecker
Virginia Rail
Sunriver, Oregon, 97707

Mt. Bachelor Ski Area
Vacation Rental Home

phone...
(503) 805-0479
email...
Sunriver Luxury Home
Suzanne Strecker
Sunriver Executive Lodge Home

Be sure to mention...
JOY@lodging4vacations.com
when you respond to this ad.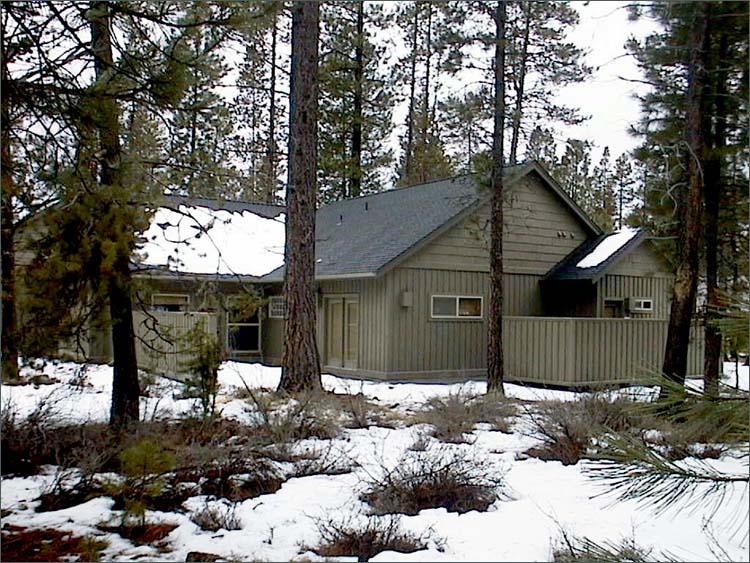 Links
Remember to 'send off'
the contact form above,
before you click away on these fun
and informational links below....


Sunriver Visitor's Guide ~ helpful for events, things to do, and more; viewable only, but hard copies available at Chamber Office and other locations

Information ~ ~ on Hiking, boating, activities, and more. in Central Oregon




Click here...Snowmobile trails are groomed by volunteers and snowmobile enthusiasts of the CENTRAL OREGON SNOWBUSTERS and the Sisters Sno-Go-Fers. These organizations operate under a special use permit from the Bend/Fort Rock Ranger District and the Sisters Ranger District of the Deschutes National Forest. Volunteers use Oregon State Snowmobile Association Equipment purchased with funds from gas tax and registration fees from ATVs and Snowmobiles. Trails are groomed six days a week (Sunday through Friday).




Mt. Bachelor Ski Resort One of the largest resorts in North America, Skiers, Snowboarders and Nordic Skiers will find great conditions, plenty of snow, big terrain, short lift lines and a great value. Minutes from Bend, Redmond, Sunriver and Sisters, Oregon, Mt. Bachelor Ski Resort offers nearly 3700 acres of varied terrain and sits in the high desert of the Central Cascades and is known for dry snow and the best skiing and riding in the West.

Click here to visit my ...
VRBO Web Page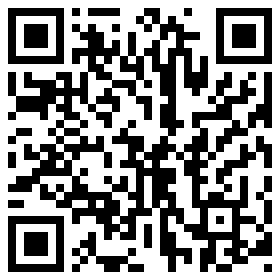 Click here to see more...
Lodging4Vacations'
Sunriver and Mt Bachelor
Vacation Rentals



Click here to see more...
Oregon Vacation Rentals
Lodging4vacations' Homepage